| Startseite | Artists | Gallery | Impressum | Sitemap HTML | Linkliste html | Raju Mondhe |
| Katalog_Acryl | Katalog Tusche | Katalog Radierung |

Raju Mondhe
"Color is my day-long obsession, joy and torment."
<![if !supportLineBreakNewLine]>
<![endif]>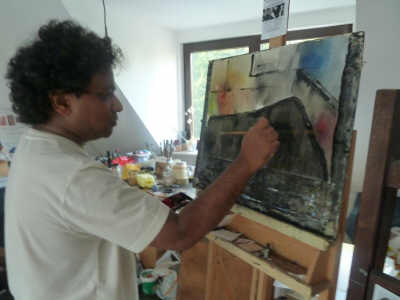 Raju Mondhe
53177 Bonn
Handy 017668058795

Raju Mondhe ist in London geboren und in Hamburg aufgewachsen.
Seine Werke decken alle Facetten der Malerei ab, Stilleben, Abstrakt, Landschaften, Collage und Portraits. Er hat an der Muthesius Hochschule für Bildende Kunst in Kiel studiert.
Seine Professoren waren Ekkehard Thieme, Peter Nagel und Fritz Bauer.

Am Anfang seines künstlerischen Werdegangs stehen Experimente mit Farben im Mittelpunkt seiner Interessen. Während seines Kunststudiums war das Zeichnen ein Hauptthema in seinen Arbeiten.

Nach dem Studium hat Raju eine umfangreiche Serie von bunten abstrakten Bildern entworfen, die in ihre Ausstrahlung eine beeindruckende Farbharmonie und Farbsymphonie wiedergeben. In ihrer Farbigkeit und Bildsprache werden Eindrücke von Henri Matisse oder August Macke erkennbar. Die Motive sind auf großen Holzplatten im Format 100 cm x 120 cm entstanden.

In den letzten fünf Jahren befasst sich Raju wieder vermehrt mit der Zeichnung.
Er experimentiert gern mit verschiedenen Techniken wie Tusche und Feder,
arbeitet Kollagen in seine Zeichnungen ein und koloriert sie mit Acrylfarben.

"
Color is my day-long obsession, joy and torment."
Born in London UK and brought up in Hamburg Germany, Raju Mondhe has studied
in Muthesius School of Fine Arts in the city of Kiel in Germany.
His works covers all facets of painting, still life, Abstract, Landscapes, Collage, Portraits.


2010: International Art Exhibition, Water, Innovationszentrum Lübeck
2010: Begegnung im Raum, Exhibition in Bonn Bad Godesberg, Art Club
2008: Melodie der Farben Reflection Art Gallery, Indore, MP, India.
2005: Benefit Exhibition for SOS Kinderdorf (SOS Children's Village
Germany), Norderstedt Germany.
2002: Individual Exhibition of Collages Portrays in Gallery Remise in Bad Segeberg.
2001: Show of 90 Paintings at the Muthesius School of Fine Arts.
1998: Individual Exhibition in House of Culture in Henstedt-Ulzburg Germany.
1999: Individual Exhibition Raiffeisen Bank Henstedt Ulzburg Germany.
1997: Individual Exhibition of Boat Series done in Maldon Essex UK
at Novotel, Hamburg.
1996: April: Hamburg Kaifu Art Center.
1996: November: Individual Exhibition in Bruegge Belgium.
1994: Immenson Lert near Hannover Germany.
1993: Surya Hotel Indore, India.
Group Exhibitions:
2011 November: Group Exhibition In Ehrenbreitstein, Koblenz, Germany
2010 November: Group Exhibition, Gallery Kallenbach, Bonn, Germany
2004 November: Group Exhibition in Hamburg, Germany
2004 September: Group Exhibition 'Show of 1000 Artists' Kiel, Germany
Workshops:
1990 to 2006: Participated in Different workshops for Clay modeling.
2001: Participated in Art Camp Ujjain.